Technical Information
Wire Mesh Cable Tray  Detailed Information:
a.  A job site, field adaptable support system primarily for low voltage telecommunication and fiber optic cables.  These   systems are typically steel wire mesh, zinc plated. 
b.  Standard widths of 1.5, 2, 4, 6, 8, 12, 16, 18, 20, and 24 inches 
c.  Standard depths of 1, 2, and 4 inches 
d.  Standard length of about 10 feet (118")
Wire Mesh tray is generally used for telecommunication and fiber optic applications and are installed on short support spans, 4 to 8 feet Other sizes be produced according to customer's drawing. 
WIRE MESH CABLE TRAY Surface Finish:
♦  Electro zinc plated–for indoor use to BS EN 12329-2000, 12microns thick.
♦  Hot Dipped Galvanized–for outdoor use to BS EN 1461-1999, between 60 and 80 microns thick
♦  Electrolytic Polishing–for stainless steel use
 Wire Mesh Cable Tray Material:
Q235 Steel (Chinese standard steel), SS304, SS316
Suffix
Finish
Specification
Use
EN
Eletroplated Zinc Galvanizing
Finish applied after fabrication
ASTM B633
Avg. thickness of 0.7 mils(18 microns) to 0.8 mils(20 microns)
Controlled interior applications
GN
Zinc and nickel protection
ASTM B633
Avg. thickness of 0.8 mils(19 microns) to 0.9 mils(22 microns)
Controlled interior applications
GS
Pre-Galvanized Finish applied before fabrication
ASTM A641
Exterior, corrosive applications
HDG
Hot Dip Galvanized Finish applied after fabrication
ASTM A123
Avg. thickness of 2.4 mils(60 microns) to 3.2 mils(80 microns)
Exterior, corrosive applications
SS304/304L
304/304L Stainless Steel
ASTM A580
Food preparation, wash-down areas
SS316/316L
316/316L Stainless Steel
ASTM A580
Highly corrosive application & marine environments
Wire Mesh Cable Tray Installation Notice:
Bends, Risers, T Junctions, Crosses and Reducers can be made from wire mesh cable tray straight sections flexibly in projects.
Trays shall be supported at a maximum span of 2.5m by trapeze, wall, floor or channel mounting methods and will not exceed maximum loads as specified by the manufacturer.
Wire Mesh Cable Tray systems can be safely employed in places where the temperature ranges between -40°C and +150°C without any change to their characteristics.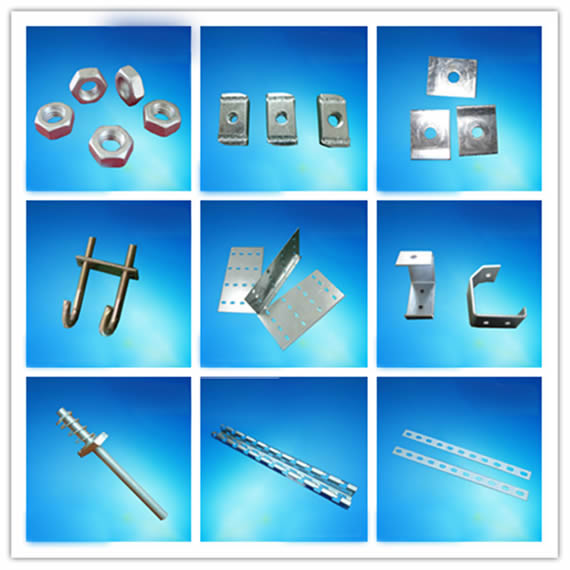 Wire Mesh Cable Tray Specification: 
| | | | | |
| --- | --- | --- | --- | --- |
| Item | Size(mm) | Width(mm) | Height(mm) | length(m)  |
| 1 | 50*50 | 50 | 50 | 2.44/3 |
| 2 | 100*50 | 100 | 50 | 2.44/3 |
| 3 | 200*50 | 200 | 50 | 2.44/3 |
| 4 | 300*50 | 300 | 50 | 2.44/3 |
| 5 | 100*100 | 100 | 100 | 2.44/3 |
| 6 | 200*100 | 200 | 100 |   2.44/3   |
| 7 | 300*100 | 300 | 100 | 2.44/3 |
| 8 | 150*150 | 150 | 150 |   2.44/3   |
| 9 | 200*150 | 200 | 150 | 2.44/3 |
| 10 | 300*150 | 300 | 150 | 2.44/3 |
Select the item No. - Send the inquiry to us - Offer - Negotiation - Sample confirmed - Pay deposit - Start production - Production finished - pay the balance - send the goods to you - Happy & repeat order